Immacolata Fiume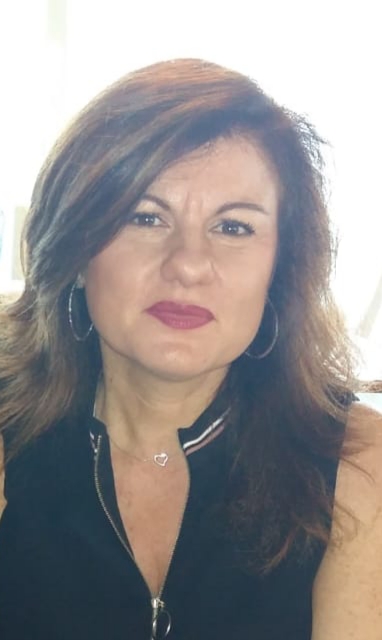 ---
EDUCATION AND TRAINING
1989 Diploma in Biological chemistry, "Istituto Tecnico Industriale Statale "Francesco Giordani", Naples, Italy.
1992-1994 Study grant International Mass Spectrometry Centre of CNR, Naples, Italy.
WORKING EXPERIENCE
from 1th of January 2014 Mass Spectrometry and Proteomic Laboratory-Institute of Biosciences and Bioresources, CNR - UOS of Naples, Italy
2002-2012 Mass Spectrometry and Proteomic Laboratory-Institute of Protein Biochemistry, CNR - Naples, Italy
1994-2002 Intitute of Food Science and Technology, CNR - Avellino, Italy
1990-1994 International Mass Spectrometry Centre, CNR - Naples, Italy
FIELD OF RESEARCH
Protein Biochemistry;
Protein purification and characterization;
Mass Spectrometry and Proteomics;
Phosphoproteomics;
Glycoproteomics;
ITRAQ and ICAT labeling for quantitative mass spectrometry analysis of proteins;
Exploiting exosomes for biomarker discovery studies;
Proteomics charecterizations of cell secretome and secretion mechanisms;
Identification of new diagnostic/prognostic biomarkers, and drug targets for the development of new therapeutic approaches
Development of new mass spectrometry-based analytical methods.
INVOLVEMENT IN RESEARCH PROJECTS
"Quantitative proteomics for the identification of differentially expressed proteins in cells treated with Daunomycin bioconjugates" CNR-MTA Agreement CNR/MTA agreement -
2010/2012.
"Identification of reliable urinary biomarkers of Diabetic Nephrology by means of powerful and complementary proteomics strategyies" Pogetto Società Italiana di Nefrologia (SIN) - Ricercando 2011.
"Nuovi networks molecolari per il controllo dell'omeostasi energetica: implicazioni per il diabete di tipo 2 e l'obesità", MIUR 2010-2013
TECHNICAL PROFICIENCY
Isoelectrofocusing, different elecrophoresis techniques (1D & 2D PAGE), Western blotting, , Gaschromatography, High Performance Liquid Chromatography (RP, HILIC, HPAE), Mass Spectrometry (FAB-MS, GC-MS, MALDI-TOF, LC-MS/MS, SELDI-TOFMS), Enzymatic assays.
Proteomic bioinformatics: Scaffold, Mascot.
Selected Publications
(full list available at CNR People)
Bilateral project CNR-CINVESTAV mEVChip: A microfluidic device to assess the anti-inflammatory effects of ginger-derived nanovesicles on mammalian cells

Pocsfalvi G, Fiume I, Ramos AP, J-L G-C, Amador Hernandez J, Rodriguez R

Year: 2021

Pursuing mechanisms of extracellular vesicle formation. Effects of sample processing

Božič D, Hočevar M, Kononenko V, Jeran M, Štibler U, Fiume I, Pajnič M, PaÄàen L, Kogej K, Drobne D, Iglič A, Pocsfalvi G, Kralj-Iglič V

Year: 2020

Plant roots release small extracellular vesicles with antifungal activity

De Palma M, Ambrosone A, Leone A, Del Gaudio P, Ruocco M, Turiák L, Bokka R, Fiume I, Tucci M, Pocsfalvi G

Year: 2020

Potential allergenicity of Medicago sativa investigated by a combined IgE-binding inhibition, proteomics and in silico approach

Yakhlef M, Giangrieco I, Ciardiello MA, Fiume I, Mari A, Souiki L, Pocsfalvi G

Year: 2020

Bacterial IAA-delivery into Medicago root nodules triggers a balanced stimulation of C and N metabolism leading to biomass increase

Defez R, Andreozzi A, Romano S, Pocsfalvi G, Fiume I, Esposito R, Angelini C, Bianco C

Year: 2019

Bacterial IAA-Delivery into Medicago Root Nodules Triggers a Balanced Stimulation of C and N Metabolism Leading to a Biomass Increase

Defez R, Andreozzi A, Romano S, Pocsfalvi G, Fiume I, Esposito R, Angelini C, Bianco C

Year: 2019

Dissection of protein cargo of Citrus fruit juice sac cells-derived vesicles reveals heterogeneous transport and extracellular vesicles subpopulations

Pocsfalvi G, Turiák L, Ambrosone A, Del Gaudio P, Puska G, Fiume I, Silvestre T, Vékey K

Year: 2018

Chromatography and its hyphenation to mass spectrometry for extracellular vesicle analysis

Pocsfalvi G, Stanly C, Fiume I, Vékey K

Year: 2016

Mass spectrometry of extracellular vesicles

Pocsfalvi G, Stanly C, Vilasi A, Fiume I, Capasso G, Turiák L, Buzas EI, Vékey K

Year: 2016

Isolation and characterisation of a novel alpha-amylase from the extreme haloarchaeon Haloterrigena turkmenica

Santorelli M, Maurelli L, Pocsfalvi G, Fiume I, Squillaci G, La Cara F, Del Monaco G, Morana A

Year: 2016

Isolation of exosome-like vesicles from plants by ultracentrifugation on sucrose/deuterium oxide (D2O) density cushions

Stanly C, Fiume I, Capasso G, Pocsfalvi G

Year: 2016

Urinary extracellular vesicles as reservoirs of altered proteins during the pathogenesis of polycystic kidney disease

Pocsfalvi G, Raj DA, Fiume I, Vilasi A, Trepiccione F, Capasso G

Year: 2015

Surface-exposed Glycoproteins of Hyperthermophilic Sulfolobus solfataricus P2 Show a Common N-Glycosylation Profile

Palmieri G, Balestrieri M, Peter-Katalinic J, Pohlentz G, Rossi M, Fiume I, Pocsfalvi G

Year: 2013

Enrichment specificity of micro and nano-sized titanium and zirconium dioxides particles in phosphopeptide mapping

Vilasi A, Fiume I, Pace P, Rossi M, Pocsfalvi G

Year: 2013

Urinary exosomes for protein biomarker research

Amal Raj DA, Fiume I, Capasso G, Pocsfalvi G

Year: 2012

Structural and Functional Insights into Aeropyrum pernix OppA, a Member of a Novel Archaeal OppA Subfamily

Balestrieri M, Gogliettino M, Fiume I, Pocsfalvi G, Catara G, Rossi M, Palmieri G

Year: 2011