Francesco Paolo Losavio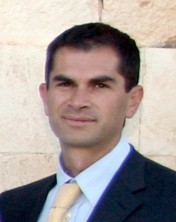 ---
Losavio Francesco Paolo since April 1998 is technician at Germplasm Institute.
He collaborates in the laboratory activities using molecular biology techniques, in microscopy focusing on cytogenetic, including C-banding and in situ fluorescence.
It carries out technical/experimental support in multiplication of plant genetic material in situ and ex situ.
He is a technical manager of experimental field assays, has followed the experimental farm called "P. Martucci" at Valenzano (BA), in charge of the organization, data collection in the field, and leadership of the personnel involved.
He participates in the exploration team of linguistic populations, and keep contacts with rural communities, produces archives of data and does image processing of the material/information acquired in the collecting mission.
Actually he is involve in PSR project for the safeguard of agrobiodiversity in Apulia region.
Selected Publications
(full list available at CNR People)
Exploring on-farm agro-biodiversity: a study case of vegetable landraces from Puglia region (Italy)

Conversa G, Lazzizera C, Bonasia A, Cifarelli S, Losavio F, Sonnante G, Elia A

Year: 2020

Leguminose - cereali - foraggere

Finetti-Sialer M, Lioi L, Tommaselli V, Urbano M, Bisignano V, Polignano GB, Campanella G, Cataldo P, Cifarelli S, Colaprico G, Losavio FP, Scarascia M, Stimolo L, Accogli R, De Bellis L, Cazzato E, Fracchiolla M, Lasorella C, De Mastro G, Tedone L, Ruta C, Verdini L, De Vita P, Pecorella I, Ficco DB M, Pecchioni N, Mattia C, Modesti F, Mita G, Santino A, Taurino M, Falco V, Pantaleo V, Leonetti P, Ricciardi L, Lotti C, Simeone R, Blanco A, Mangini G, Abrusci V, Abrusci G, Capurso A, Creanza G, Berloco G, Dalfino G, Di Renzo P, Intini M, Intini B, Magnatta M, Razionale V, Papa MR, Panarese F, Panarese M, Maisto A, Racano E, Stasolla F, Belligiano Angelo

Year: 2018

CNR-IBBR Attività di coordinamento ed organigramma del capofila

Margiotta B, Lioi L, Finetti Sialer M, Urbano M, Tomaselli V, Bisignano V, Polignano GB, Colaprico G, Cataldo P, Scarascia M, Campanella G, Stimolo L, Cifarelli S, Losavio FP, Rapanà N, Veronico G, Tricarico A, Livorti M, Fortunato R, Fornarelli N, Piergiovanni AR, Laghetti G

Year: 2018

Collecting, characterizing and promoting vegetable genetic resources in Apulia, Southern Italy

Sonnante G, Blanco E, Cifarelli S, Curci PL, Di Renzo P, Lioi L, Liuzzi V, Losavio F, Morgese A, Quattromini A, Sonnante Gi, Zuluaga DL

Year: 2017

Leguminose da orto: il caso del fagiolino pinto e altre varietà locali.

Sonnante G, Cifarelli S, Losavio FP, Morgese A, Sonnante G. Lioi L

Year: 2017

Artichokes from Apulia region, a source of genetic variation

Sonnante G, Curci PL, Pavan S, Blanco E, Zuluaga DL, Losavio F, Morgese A

Year: 2017

Le antiche varietà di patata del Pollino

Cerbino D, De Lisi A, Giunta R, Montesano V, Losavio F, Direnzo P, Stimolo L, Illiano M, Di Napoli A, Cirigliano M, Zienna P, Gallo S, Figliuolo G, Laghetti G

Year: 2016

Le antiche varietà di patata del Pollino

Cerbino D, Illiano M, Cirigliano M, Di Napoli A, Zienna P, Gallo S, Laghetti G, De Lisi A, Direnzo P, Giunta R, Losavio FP, Stimolo L, Negro D, Sarli G, Di Paola A, Figliuolo G

Year: 2016

Le melanzane dell'area sud della Basilicata

Cerbino D, Illiano M, Di Napoli A, Cirigliano M, Zienna P, Gallo S, Laghetti G, De Lisi A, Sonnante G, Nigro D, Losavio FP, Stimolo L, Giunta R, Piergiovanni AR, Morgese A, Hammer K, Figliuolo G

Year: 2016

Le melanzane dell'area sud della Basilicata

Cerbino D, Illiano M, Di Napoli A, Cirigliano M, Zienna P, Gallo S, Laghetti G, De Lisi A, Sonnante G, Nigro D, Losavio FP, Stimolo L, Giunta R, Piergiovanni AR, Morgese A, Hammer K, Figliuolo G

Year: 2016

La valorizzazione degli agroecotipi di melanzana del Parco Nazionale del Pollino: caratterizzazione morfo-agronomica, biochimica e molecolare

Laghetti G, Cerbino D, De Lisi A, Piergiovanni AR, Sonnante G, Giunta R, Negro D, Losavio F, Morgese A, Stimolo L, Illiano M, Di Napoli A, Cirigliano M, Zienna P, Gallo S, Figliuolo G, Hammer K

Year: 2016

SaVeGraINPuglia: a project to safeguard legume, cereal and forage landraces of Apulia region

Laghetti G, Bisignano B, Campanella G, Casini G, Cataldo P, Cifarelli S, Colaprico G, De Virgilio M, Direnzo P, Finetti Sialer M, Lioi L, Losavio F, Polignano GB, Scarascia M, Stimolo L, Tomaselli V, Urbano M, Veronico G, Piergiovanni AR, Margiotta B

Year: 2015

CNR-IBBR Attività di coordinamento e organigramma del capofila

Laghetti G, Bisignano B, Campanella G, Casini G, Cataldo P, Cifarelli S, Colaprico G, DE Virgilio M, Direnzo P, Finetti Sialer M, Lioi L, Losavio FP, Polignano GB, Scarascia M, Stimolo L, Tomaselli V, Urbano M, Veronico G, Piergiovanni AR, Margiotta B

Year: 2015

Grano duro. Risultati 2012-13 della Rete Nazionale. Areale Sud peninsulare. Molise, Campania, Puglia, Basilicata e Calabria

Codianni P, De Vita P, Paone S, Colecchia S, Papa R, Fornara M, Mazzon V, Belocchi A, Quaranta F, Preiti G, Laghetti G, Losavio FP, Tedone L, De Mastro G, Schiavone D, Mori M, Di Mola I, Blanco A, Signorile MA, De Santis V, Colonna M, Ricci M

Year: 2013

Survey for The Conservation of Agrobiodiversity in Three Italian Linguistic (Occitan, Croatian and Franco-Provençal) Islands.

Laghetti G, Ghiglione G, De Lisi A, Maruca G, Losavio F, Pignone D

Year: 2013

Historical and Traditional Notes on Collecting Crop Genetic Resources in Central Part of Calabria Region

Maruca G, Laghetti G, Losavio F, Pignone D, Hammer K

Year: 2013

Cereali, grano duro. Varietà  2012. Molise, Campania, Puglia, Basilicata e Calabria - Areale sud peninsulare.

Codianni P, De Vita P, Papa R, Fornara M, Mazzon V, Quaranta F, Preiti G, Laghetti G, Losavio Fp, Tedone L, De Mastro G, Schiavone D, Mori M, Blanco A, Colonna Me Ricci M

Year: 2012

Varietà 2011. Grano duro la scelta delle varietà. Areale Sud peninsulare

Codianni P, De Vita P, Papa R, Fornara M, Mazzon V, Quaranta F, Preiti G, Laghetti G, Losavio FP, Tedone L, De Mastro G, Blanco A, Colonna M

Year: 2011