Antonio Motisi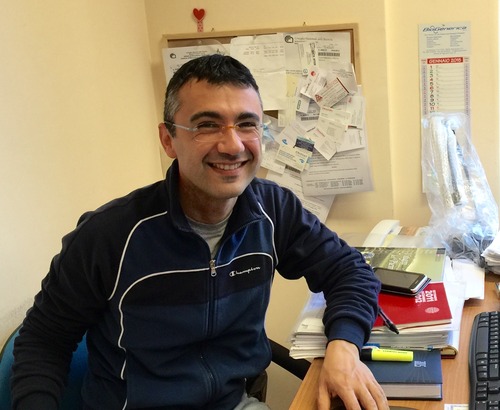 ---
Curriculum vitae
Name: Antonio Motisi
Date and Place of Birth: January 19th, 1978 - Palermo.
Address: Institute of Biosciences and BioResources, Division of Palermo, National Research Council, Corso Calatafimi, 414, 90129 Palermo (PA), Italy.
E-mail: antonio.motisi@ibbr.cnr.it
Current position

From 2012 Level VI - Technical Collaborator E.R.
Education
Professional qualification of nursery gardener (2003)
Degree in Agricoltural Sciences (2007): Faculty of Agriculture - University of Palermo.
Qualification to practice as a agronomist (2007).
Annual Master (2007-08) in "Teaching biology" released by FOR.COM.
Annual Master (2008-09) in "Environmental education" released by FOR.COM.
Work experience
January 2002- September 2004 activities nurseries of citrus rootstocks
February -June 2008, May-July 2009, July 2010-October 2011 research grants at the Institute of Biosciences and Bioresources (IBBR) UOS Palermo, CNR - National Research Council of Italy.
Laboratory activities
Plant tissue culture
Propagation and Conservation of the rare and endangered species
Conservation of plant genetic diversity
Genetic improvement
Propagation and acclimatization protocols
Management of germplasm bank
Participation to Research Projects
Poster: Plant biotechnology a useful tool to preserve and improve genetic resources - Abbate L., Badalamenti O.,Carra A, Catalano C., Fatta del Bosco, S.,Garfì G.,Gristina A., Motisi A., Pacifico D., Pasta S., Spinelli P., Stigliano E., Carimi F.
Selected Publications
(full list available at CNR People)
Increased Zygote-Derived Plantlet Formation through In Vitro Rescue of Immature Embryos of Highly Apomictic Opuntia ficus-indica (Cactaceae)

Carra A, Catalano C, Pathirana R, Sajeva M, Inglese P, Motisi A, Carimi F

Year: 2023

Somatic Embryogenesis and Flow Cytometric Assessment of Nuclear Genetic Stability for Sansevieria spp.: An Approach for In Vitro Regeneration of Ornamental Plants

Catalano C, Carra A, Carimi F, Motisi A, Sajeva M, Butler A, Lucretti S, Giorgi D, Farina A, Abbate L

Year: 2023

Propagation of Calendula maritima Guss. (Asteraceae) through biotechnological techniques for possible usage in phytotherapy

Catalano C, Abbate L, Carimi F, Carra A, Gristina AS, Motisi A, Pasta S, Garfì G

Year: 2022

Different cell Types Affect the Transition from Juvenile to Mature Phase in Citrus Plants Regenerated through Somatic Embryogenesis

Catalano C, Abbate L, Fatta Del Bosco S, Motisi A, Carimi F, De Michele R, Mercati F, D'onghia AM, Carra A

Year: 2022

Long-term field evaluation of conventional vs. micropropagated plants of Chrysanthemum cinerariifolium

Catalano C, Carra A, Carimi F, Motisi A, Abbate L, Sarno M, Carrubba A

Year: 2022

Rootstocks with Different Tolerance Grade to Citrus Tristeza Virus Induce Dissimilar Volatile Profile in Citrus sinensis and Avoidance Response in the Vector Aphis gossypii Glover

Guarino S, Mercati F, Fatta Del Bosco S, Motisi A, Abbate L

Year: 2022

Influence of Culture Conditions on In Vitro Asymbiotic Germination of Anacamptis longicornu and Ophrys panormitana (Orchidaceae)

Arcidiacono M, Catalano C, Motisi A, Sajeva M , Carimi F, Carra A

Year: 2021

Translocation to prevent extinction in face of global change: the case of the sterile relict tree Zelkova sicula (Sicily, Italy)

Garfì G, Buord S, Carra A, Catalano C, Fazan L, Gautier C, Gristina AS, Livreri Console S, Motisi A, Perrotta G, Kozlowski G, Pasta S

Year: 2021

Translocation to prevent extinction in face of global change: the case of the sterile relict tree Zelkova sicula (Sicily, Italy)

Garfì G, Buord S, Carra A, Catalano C, Fazan L, Gautier C, Gristina AS, Livreri Console S, Motisi A, Perrotta G, Kozlowski G, Pasta S

Year: 2021

From glacial refugia to hydrological microrefugia: Factors and processes driving the persistence of the climate relict tree Zelkova sicula

Garfì G, Carimi F, Fazan L, Gristina AS, Kozlowski G, Livreri Console S, Motisi A, Pasta S

Year: 2021

Citrus Varieties with Different Tolerance Grades to Tristeza Virus Show Dissimilar Volatile Terpene Profiles

Guarino S, Abbate L, Mercati F, Fatta Del Bosco S, Motisi A, Arif MA, Cencetti G, Palagano E, Michelozzi M

Year: 2021

Water relations of two Sicilian grapevine cultivars in response to potassium availability and drought stress

Oddo E, Abbate L, Inzerillo S, Carimi F, Motisi A, Sajeva M, Nardini A

Year: 2020

Overcoming sexual sterility in conservation of endangered species: the prominent role of biotechnology in the multiplication of Zelkova sicula (Ulmaceae), a relict tree at the brink of extinction

Carra A, Catalano C, Badalamenti O, Carimi F, Pasta S, Motisi A, Abbate L, La Bella F, Fazan L, Kozlowski G, Garfì G

Year: 2019

Phylogenetic relationship among wild and cultivated grapevine in Sicily: a hotspot in the middle of the Mediterranean Basin

De Michele R, La Bella F, Gristina AS, Fontana I, Pacifico D, Garfi G, Motisi A, Crucitti D, Abbate L, Carimi F

Year: 2019

Urgent need for preservation of grapevine (Vitis vinifera L. subsp. vinifera) germplasm from small circum-Sicilian islands as revealed by SSR markers and traditional use investigations

Gristina AS, De Michele R, Garfì G, La Mantia T, Fontana I, Spinelli P, Motisi A, Carimi F

Year: 2017