Workshop dell'Istituto di BioScienze e BioRisorse - Napoli (6-7 ottobre 2014)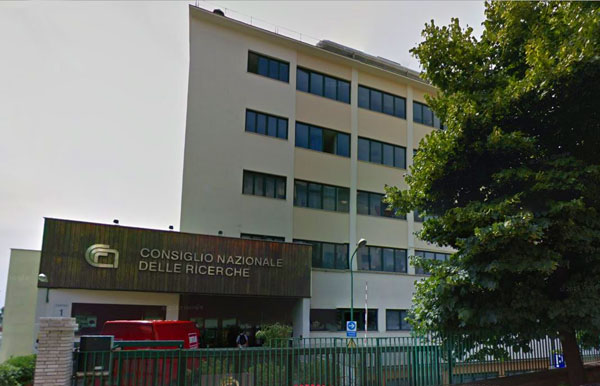 IBBR/CNR - Sede di Napoli, Area della Ricerca, v. P. Castellino 111
Consiglio Nazionale delle Ricerche
Area delle Ricerca
Via Pietro Castellino 111
Napoli

Programma definitivo
6 ottobre 2014
15.00-15.20 Apertura Convegno
Introduzione: Giovanni Giuseppe Vendramin, Francesco Loreto
Sessione 1
Chair: Gianfranco Peluso
15.20-15.45 Angela R. Piergiovanni*, Lucia Lioi, Venturino Bisignano, Marcella Urbano, Benedetta Margiotta (Sede di Bari).
Multidisciplinary approach for the characterisation and valorisation of legume and cereal genetic resources
15.45-16.10 Francesco Paolocci*, Fiammetta Alagna, Luciana Baldoni, Beatrice Belfiori, Michele Bellucci, Luigi Bolis, Ornella Calderini, Nicolò Cultrera, Francesco Damiani, Francesca De Marchis, Francesca Dini, Simone Grisan, Roberto Mariotti, Saverio Pandolfi, Andrea Pompa, Fulvio Pupilli, Claudia Riccioni, Andrea Rubini (UOS di Perugia).
Genetic resources: management, analysis and exploitation
16.10-16.35 Roberto De Michele*, Francesco Mercati, Davide Pacifico, Sergio Ferrante, Ignazio Fontana, Patrizia Spinelli, Adriana Martorana, Annalisa Rizza, Egidio Stigliano, Francesco Carimi (UOS di Palermo).
Molecular biology research at IBBR-PA
16.35-17.00 Cristina Vettori*, Gabriele Bucci, Maurizio Capuana, Marco Michelozzi, Giovanni Giuseppe Vendramin (UOS di Firenze).
Population genomics and phenotypic plasticity in forest trees
17.00-17.25 Daniela Giordano, Daniela Coppola, Roberta Russo, Giovanna Altomonte, Marianna Caranfil, Giovanna De Simone, Guido di Prisco, Cinzia Verde* (UOS di Napoli).
Marine organisms in cold environments: biochemical adaptations and biotechnological applications
17.25-19.25 Talks & Drinks (Sessione poster dispari)
7 Ottobre 2014
Sessione 2
Chair: Francesco Damiani
09.00-09.25 Gaetano Laghetti* (Sede di Bari).
The genebank of IBBR - Bari: its history, potentiality and difficulties
09.25-09.50 Vladimir Totev Valkov, Ludovico Martin Alves, Sophie Leran, Alessandra Rogato, Lidia Duplice, Benoit Lacombe, Maurizio Chiurazzi* (UOS di Napoli).
Functional characterization of members of the Lotus japonicus npf and nrt2 families. What's their role on nodule formation and functioning
09.50-10.15 Silvana Grandillo*, Giorgia Batelli, Maria Cammareri, Clara Conicella, Federica Consiglio, Antonello Costa, Luigi De Masi, Monica De Palma, Stefania Grillo, MariaTeresa Scarano, Nunzia Scotti, Pasquale Termolino, Marina Tucci (UOS di Portici).
Genetic and genomic-based approaches to Solanaceae improvement
10.15-10.40 Andrea Strazzulli*, Beatrice Cobucci-Ponzano, Rosa Giglio, Roberta Iacono, Federica Bitetti, Corinna Schiano di Cola, Federico Lauro, Yizhuang Zhou, Jin Xu, Vincent Lombard, Bernard Henrissat, Mosè Rossi, Marco Moracci (UOS di Napoli).
Discovery and structure/function study of Carbohydrate Active Enzymes from extremophiles in biosciences and bioresources
10.40-11.05 Ornella Calderini*, Fiammetta Alagna, Luciana Baldoni, Beatrice Belfiori, Michele Bellucci, Niccolò Cultrera, Francesco Damiani, Francesca DeMarchis, Francesca Dini, Simone Grisan, Roberto Mariotti, Saverio Pandolfi, Francesco Paolocci, Andrea Pompa, Fulvio Pupilli, Claudia Riccioni, Andrea Rubini (UOS di Perugia).
Genomics and biotechnology to unravel plants, algae and fungi potential
11.05-11.30 Caffè
Sessione 3
Chair: Francesco Carimi
11.30-11.55 Adele Adamo*, Marcello Germoglio, Adriana La Volpe, Pamela Santonicola (UOS di Napoli).
Genome instability in the meiosis and in the development of the nematode Caenorhabditis elegans
11.55-12.20 Angela Carra*, Sergio Fatta del Bosco, Giuseppe Garfì, Salvatore Pasta, Loredana Abbate, Ornella Badalamenti, Caterina Catalano, Alessandro Gristina, Francesca La Bella, Antonio Motisi, Francesco Carimi (UOS di Palermo).
In vitro research activity at IBBR-PA
12.20-12.45 Carmen Bianco*, Stefano Rubino, Anna Andreozzi, Roberto Defez (UOS di Napoli).
Over-expression of indole-3-acetic acid (IAA) in rhizobacteria: a way to manage microbial communities and promote plant growth and productivity
12.45-13.10 Mariella Finetti-Sialer*, Maddalena de Virgilio (Sede di Bari).
From plant defense to tumor attack.
13.10-13.35 Anna Di Salle*, Anna Calarco, Orsolina Petillo, Sabrina Margarucci, Maria D'Apolito, Sabrina Mucerino, Ilenia De Luca, Gianfranco Peluso (UOS di Napoli).
Cellular metabolism: from Warburg effect to nanotechnology
13.35-14.30 Pranzo
Sessione 4
Chair: Stefania Grillo
14.30-14.55 Gianna Palmieri, Marta Gogliettino*, Alessia Riccio, Clara Tesoro, Teresa Maria D'Arco, Stefania Palumbo, Marco Balestrieri, Angelo Facchiano, Mosè Rossi, Ennio Cocca (UOS di Napoli).
A new APEH cluster with antioxidant functions in nucleated erythrocytes: a physiological response to cold-induced oxidative stress?
14.55-15.20 Gabriella Sonnante*, Emanuela Blanco, Francesco Paolocci, Domenico De Paola, Diana Zuluaga, Michela Janni, Pasquale L. Curci, Wilma Sabetta, Angela Gatto, Donatella Danzi (Sede di Bari).
Control of the synthesis of bioactive compounds and of the response to abiotic stress
15.20-15.45 Nunzia Scotti, Maria Cammareri, Clara Conicella, Antonello Costa, Monica De Palma, Silvana Grandillo, Stefania Grillo, Marina Tucci. (UOS di Portici).
Plant biotechnology for agro-industries
15.45-17.45 Talks & Drinks (Sessione poster pari)
17.45-18.00 Chiusura Convegno
Conclusioni: Giovanni Giuseppe Vendramin
Maggiori Informazioni
Maria Ciaramella
maria.ciaramella@ibbr.cnr.it
tel +39 081 6132247
fax +39 081 6132646
Formato PDF

Scarica il programma definitivo in formato pdf
(Adobe Reader - 117 Kb, last updated: Sep 25, 2014 - 16:01)

Scarica il book of abstract in formato pdf
(Adobe Reader - 1427.7 Kb, last updated: Sep 27, 2014 - 16:17)