Elia Di Schiavi
Role: Senior Researcher
Section: Researchers and Technologists
Division: Naples
Tel: (39) 081-6132365
E-mail: elia.dischiavi@ibbr.cnr.it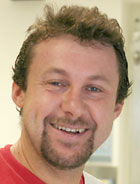 ---
Personal Info
Nationality: Italian
Sex: Male
Professional Address:
Istituto di Bioscienze e Biorisorse - Sezione di Napoli
Via P. Castellino 111
I-80131 Napoli (Italy)
Position: Senior Researcher
Main Research Interests
Our group uses the impressive experimental advantages offered by the nematode animal model C. elegans to approach a variety of fundamental biological questions. A major focus of our research is to understand how nervous systems develop, function and react and survive to various insults (a). We also use C. elegans as a model to study in vivo the function played by genes relevant for human health (b) and as a tool in biotechnology (c); these areas are, however, largely interconnected and overlapping in terms of techniques, results, funding and collaborations.
a) C.elegans nervous system is simple and easy to study and to manipulate genetically, but its development and function is remarkably conserved. We have been interested, for example, in avoidance behavior, which is triggered when animals encounter noxious, toxic or repellent stimuli, either produced by plants (e.g. quinine) or by bacteria (e.g from different habitats or pathogenic).
b) We have exploited the extensive conservation of the structure and function of genes and of entire pathways from invertebrates to mammals to study genes whose homologs in humans are involved in diseases.
c) The 1mm size and the 3 days life cycle make C. elegans very attractive as a tool in various biotechnology projects.
- C. elegans is a free living nematode but represents an important model for parasitic ones. We have been interested in finding new targets for the control of plant parasitic nematodes and to set up animal models for screening and validation of new nematocides.
- We are using the disease models we developed to identify and/or validate new molecules capable of slowing down the progression of diseases (e.g Spinal Muscular Atrophy) and to identify chemicals and food contaminants with neurotoxic effects (e.g patulin, chlorpyrifos).
Selected Publications
(full list available at CNR People)
The recurrent pathogenic Pro890Leu substitution in CLTC causes a generalized defect in synaptic transmission in Caenorhabditis elegans

Pannone L, Muto V, Nardecchia F, Di Rocco M, Marchei E, Tosato F, Petrini S, Onorato G, Lanza E, Bertuccini L, Manti F, Folli V, Galosi S, Di Schiavi E, Leuzzi V, Tartaglia M, Martinelli S

Year: 2023

Mitochondrial ribosomal protein genes connected with Alzheimer's and tellurite toxicity

Del Giudice L, Alifano P, Calcagnile M, Di Schiavi E, Bertapelle C, Aletta M, Pontieri P

Year: 2022

Anosmin-1-Like Effect of UMODL1/Olfactorin on the Chemomigration of Mouse GnRH Neurons and Zebrafish Olfactory Axons Development

Di Schiavi E, Vistoli G, Moretti RM, Corrado I, Zuccarini G, Gervasoni S, Casati L, Bottai D, Merlo GR, Maggi R

Year: 2022

Deregulation of microtubule organization and RNA metabolism in Arx models for lissencephaly and developmental epileptic encephalopathy

Drongitis D, Caterino M, Verrillo L, Santonicola P, Costanzo M, Poeta L, Attianese B, Barra A, Terrone G, Lioi MB, Paladino S, Di Schiavi E, Costa V, Ruoppolo M, Miano MG

Year: 2022

Nusinersen Induces Disease-Severity-Specific Neurometabolic Effects in Spinal Muscular Atrophy

Errico F, Marino C, Grimaldi M, Nuzzo T, Bassareo V, Valsecchi V, Panicucci C, Di Schiavi E, Mazza T, Bruno C, D'amico A, Carta M, D'ursi AM, Bertini E, Pellizzoni L, Usiello A

Year: 2022

TFEB Regulates ATP7B Expression to Promote Platinum Chemoresistance in Human Ovarian Cancer Cells

Petruzzelli R, Mariniello M, De Cegli R, Catalano F, Guida F, Di Schiavi E, Polishchuk RS

Year: 2022

Extracellular Vesicles From Microalgae: Uptake Studies in Human Cells and Caenorhabditis elegans

Picciotto S, Santonicola P, Paterna A, Rao E, Raccosta S, Romancino DP, Noto R, Touzet N, Manno M, Di Schiavi E, Bongiovanni A, Adamo G

Year: 2022

Synthesis and Characterization of a Biocompatible Nanoplatform Based on Silica-Embedded SPIONs Functionalized with Polydopamine

Romano M, González Gómez MA, Santonicola P, Aloi N, Offer S, Pantzke J, Raccosta S, Longo V, Surpi A, Alacqua S, Zampi G, Dediu VA, Michalke B, Zimmerman R, Manno M, Piñeiro Y, Colombo P, Di Schiavi E, Rivas J, Bergese P, Di Bucchianico S

Year: 2022

Reviewing as a career milestone: aàdiscussion on the importance of including trainees in the peer review process

Dennehy, John; Di Schiavi, Elia; Hoxie, Irene; Onorato, Giada

Year: 2021

Caenorhabditis elegans provides an efficient drug screening platform for GNAO1-related disorders and highlights the potential role of caffeine in controlling dyskinesia

Di Rocco M, Galosi S, Lanza E, Tosato F, Caprini D, Folli V, Friedman J, Bocchinfuso G, Martire A, Di Schiavi E, Leuzzi V, Martinelli S

Year: 2021

Impairment of the neurotrophic signaling hub B-Raf contributes to motoneuron degeneration in spinal muscular atrophy

Hensel N, Cieri F, Santonicola P, Tapken I, Schüning T, Taiana M, Pagliari E, Joseph A, Fischer S, Heidrich N, Brinkmann H, Kubinski S, Bergmann AK, Richter MF, Jung K, Corti S, Di Schiavi E, Claus P

Year: 2021

Mimicking human riboflavin responsive neuromuscular disorders by silencing fladâàà1 gene in C. elegans : Alteration of vitamin transport and cholinergic transmission

Leone P, Tolomeo M, Piancone E, Puzzovio PG, De Giorgi C, Indiveri C, Di Schiavi E, Barile M

Year: 2021

Isolation of extracellular vesicles from microalgae: towards the production of sustainable and natural nanocarriers of bioactive compounds

Picciotto S, Barone ME, Fierli D, Aranyos A, Adamo G, Božič D, Romancino DP, Stanly C, Parkes R, Morsbach S, Raccosta S, Paganini C, Cusimano A, Martorana V, Noto R, Carrotta R, Librizzi F, Capasso Palmiero U, Santonicola P, Iglič A, Gai M, Corcuera L, Kisslinger A, Di Schiavi E, Landfester K, Liguori GL, Kralj-Iglič V, Arosio P, Pocsfalvi G, Manno M, Touzet N, Bongiovanni A

Year: 2021

Novel Curcumin-Diethyl Fumarate Hybrid as a Dualistic GSK-3β Inhibitor/Nrf2 Inducer for the Treatment of Parkinson's Disease

Di Martino RM, Pruccoli L, Bisi A, Gobbi S, Rampa A, Martinez A, Pérez C, Martinez-Gonzalez L, Paglione M, Di Schiavi E, Seghetti F, Tarozzi A, Belluti F

Year: 2020

Co-occurring WARS2 and CHRNA6 mutations in a child with a severe form of infantile parkinsonism

Martinelli S, Cordeddu V, Galosi S, Lanzo A, Palma E, Pannone L, Ciolfi A, Di Nottia M, Rizza T, Bocchinfuso G, Traversa A, Caputo V, Farrotti A, Carducci C, Bernardini L, Cogo S, Paglione M, Venditti M, Bentivoglio A, Ng J, Kurian MA, Civiero L, Greggio E, Stella L, Trettel F, Sciaccaluga M, Roseti C, Carrozzo R, Fucile S, Limatola C, Di Schiavi E, Tartaglia M, Leuzzi V

Year: 2020

Understanding the effects of deep space radiation on nervous system: the role of genetically tractable experimental models

Onorato G, Di Schiavi E, Di Cunto F

Year: 2020

A Single Amino Acid Residue Regulates PTEN-Binding and Stability of the Spinal Muscular Atrophy Protein SMN

Rademacher S, Detering NT, Schüning T, Lindner R, Santonicola P, Wefel IM, Dehus J, Walter LM, Brinkmann H, Niewienda A, Janek K, Varela MA, Bowerman M, Di Schiavi E, Claus P

Year: 2020

Exploratory analysis of transposable elements expression in the C. elegans early embryo

Ansaloni F, Scarpato M, Di Schiavi E, Gustincich S, Sanges R

Year: 2019

C. elegans expressing D76N β2-microglobulin: a model for in vivo screening of drug candidates targeting amyloidosis

Faravelli G, Raimondi S, Marchese L, Partridge FA, Soria C, Mangione PP, Canetti D, Perni M, Aprile FA, Zorzoli I, Di Schiavi E, Lomas DA, Bellotti V, Sattelle DB, Giorgetti S

Year: 2019

Green kiwifruit extracts protect motor neurons from death in a spinal muscular atrophy model in Caenorhabditis elegans

Mazzarella N, Giangrieco I, Visone S, Santonicola P, Achenbach J, Zampi G, Tamburrini M, Di Schiavi E, Ciardiello MA

Year: 2019

A novel dominant-negative FGFR1 variant causes Hartsfield syndrome by deregulating RAS/ERK1/2 pathway

Palumbo P, Petracca A, Maggi R, Biagini T, Nardella G, Sacco MC, Di Schiavi E, Carella M, Micale L, Castori M

Year: 2019

Histone demethylase KDM5C is a SAHA-sensitive central hub at the crossroads of transcriptional axes involved in multiple neurodevelopmental disorders

Poeta L, Padula A, Attianese B, Valentino M, Verrillo L, Filosa S, Shoubridge C, Barra A, Schwartz CE, Christensen J, van Bokhoven H, Helin K, Lioi MB, Collombat P, Gecz J, Altucci L, Di Schiavi E, Miano MG

Year: 2019

Key role of SMN/SYNCRIP and RNA-Motif 7 in spinal muscular atrophy: RNA-Seq and motif analysis of human motor neurons

Rizzo F, Nizzardo M, Vashisht S, Molteni E, Melzi V, Taiana M, Salani S, Santonicola P, Di Schiavi E, Bucchia M, Bordoni A, Faravelli I, Bresolin N, Comi GP, Pozzoli U, Corti S

Year: 2019

Automated screening of C. elegans neurodegeneration mutants enabled by microfluidics and image analysis algorithms

De Carlos Cáceres I, Porto DA, Gallotta I, Santonicola P, Rodríguez-Cordero J, Di Schiavi E, Lu H

Year: 2018

Silencing of Syntaxin 1A in the dopaminergic neurons decreases the activity of the dopamine transporter and prevents amphetamine-induced behaviors in C. elegans

Lanzo A, Safratowich BD, Kudumala SR, Gallotta I, Zampi G, Di Schiavi E, Carvelli L

Year: 2018

Functional dysregulation of CDC42 causes diverse developmental phenotypes

Martinelli S, Krumbach OH, Pantaleoni F, Coppola S, Amin E, Pannone L, Nouri K, Farina L, Dvorsky R, Lepri F, Buchholzer M, Konopatzki R, Walsh L, Payne K, Pierpont ME, Vergano SS, Langley KG, Larsen D, Farwell KD, Tang S, Mroske C, Gallotta I, Di Schiavi E, della Monica M, Lugli L, Rossi C, Seri M, Cocchi G, Henderson L, Baskin B, Alders M, Mendoza-Londono R, Dupuis L, Nickerson DA, Chong JX, Meeks N, Brown K, Causey T, Cho MT, Demuth S, Digilio MC, Gelb BD, Bamshad MJ, Zenker M, Ahmadian MR, Hennekam RC, Tartaglia M, Mirzaa GM

Year: 2018

Activation of autophagy, observed in liver tissues from patients with Wilson disease and from Atp7b-deficient animals, protects hepatocytes from copper-induced apoptosis

Polishchuk EV, Merolla A, Lichtmannegger J, Romano A, Indrieri A, Ilyechova EY, Concilli M, De Cegli R, Crispino R, Mariniello M, Petruzzelli R, Ranucci G, Iorio R, Pietrocola F, Einer C, Borchard S, Zibert A, Schmidt HH, Di Schiavi E, Puchkova LV, Franco B, Kroemer G, Zischka H, Polishchuk RS

Year: 2018

WDR79/TCAB1 plays a conserved role in the control of locomotion and ameliorates phenotypic defects in SMA models

Di Giorgio ML, Esposito A, Maccallini P, Micheli E, Bavasso F, Gallotta I, Vernì F, Feiguin F, Cacchione S, Mccabe BD, Di Schiavi E, Raffa GD

Year: 2017

Caenorhabditis elegans employs innate and learned aversion in response to bacterial toxic metabolites tambjamine and violacein

Ballestriero F, Nappi J, Zampi G, Bazzicalupo P, Di Schiavi E, Egan S

Year: 2016

Neuron-specific knock-down of SMN1 causes neuron degeneration and death through an apoptotic mechanism

Gallotta I, Mazzarella N, Donato A, Esposito A, Chaplin JC, Castro S, Zampi G, Battaglia GS, Hilliard MA, Bazzicalupo P, Di Schiavi E

Year: 2016

A Caenorhabditis elegans model to study dopamine transporter deficiency syndrome

Illiano P, Lanzo A, Leo D, Paglione M, Zampi G, Gainetdinov RR, Di Schiavi E

Year: 2016

Mutations in SLC25A1, encoding the mitochondrial citrate carrier, cause neuromuscular junction transmission defect

Scarcia P, Zampi G, Porcelli V, Gorgoglione R, Pierri CL, De Grassi A, Sadaa A, Elpeleg O, Chaouch A, Lochmuller H, Di Schiavi E, Palmieri L

Year: 2016

Evaluation of Burkholderia cepacia complex bacteria pathogenicity using Caenorhabditis elegans

Tedesco P, Di Schiavi E, Palma Esposito F, de Pascale D

Year: 2016

Optofluidic holographic microscopy with custom field of view (FoV) using a linear array detector

Bianco V, Paturzo M, Marchesano V, Gallotta I, Di Schiavi E, Ferraro P

Year: 2015

Investigating the Role of the Host Multidrug Resistance Associated Protein Transporter Family in Burkholderia cepacia Complex Pathogenicity Using a Caenorhabditis elegans Infection Model

Tedesco P, Visone M, Parrilli E, Tutino ML, Perrin E, Maida I, Fani R, Ballestriero F, Santos R, Pinilla C, Di Schiavi E, Tegos G, De Pascale D

Year: 2015

Antinematode activity of Violacein and the role of the Insulin/IGF-1 pathway in controlling Violacein sensitivity in Caenorhabditis elegans

Ballestriero F, Daim M, Penesyan A, Nappi J, Schleheck D, Bazzicalupo P, Di Schiavi E, Egan S

Year: 2014

Kallmann's syndrome and normosmic isolated hypogonadotropic hypogonadism: Two largely overlapping manifestations of one rare disorder

Bonomi M, Cappa M, Cariboni A, Di Schiavi E, Fabbri A, Ferlin A, Foresta C, Ghizzoni L, Jannini E, Krausz C, Loche S, Lombardo F, Maggi M, Maggi R, Maghnie M, Mancini A, Merlo G, Panzica G, Radetti G, Russo G, Simoni M, Sinisi AA, Persani L

Year: 2014

Activating mutations in RRAS underlie a phenotype within the RASopathy spectrum and contribute to leukaemogenesis

Flex E, Jaiswal M, Pantaleoni F, Martinelli E, Strullu M, Fansa EK, Caye A, De Luca A, Lepri F, Dvorsky R, Pannone L, Paolacci S, Zhang S-C, Fodale V, Bocchinfuso G, Rossi C, Burkitt-Wright EMM, Farrotti A, Stellacci E, Cecchetti S, Ferese R, Bottero L, Castro S, Fenneteau O, Brethon B, Sanchez M, Roberts AE, Yntema HG, Van Der Burgt I, Cianci P, Bondeson ML, Digilio MC, Zampino G, Kerr B, Aoki BK, Loh ML, Palleschi A, Di Schiavi E, Care A, Selicorni A, Dallapiccola B, Cirstea IC, Stella L, Zenker M, Gelb BD, Cave H, Ahmadian MR, Tartaglia M

Year: 2014