Massimo Terzi
Role: Researcher
Section: Researchers and Technologists
Division: Bari
Tel: (39) 0805583400-212
E-mail: massimo.terzi@ibbr.cnr.it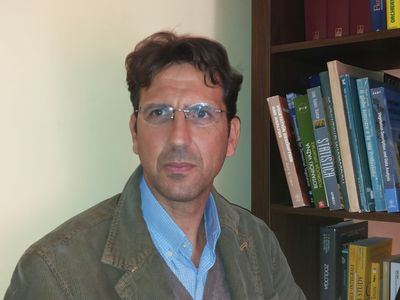 ---
Position : Research Scientist
2001- : Permanent position as Researcher at CNR - IBBR (ex-Germplasm Institute)
PhD "Plant Biology and Ecology in Mediterranean Environment", University of Catania, IT
Postgraduate Specialized Training in "Energy and environmental management in industry", CSEI / Polytechnic-University of Bari, IT
Master's degree in Natural Science, cum laude, University of Bari, IT
Scientific high school degree, Inst. Di Cagno Abbrescia, Bari, IT
Main Research Interests
Diversity of Mediterranean flora and vegetation;
Phytosociology and classification of habitat and vegetation (syntaxonomy), with special reference to dwarf-scrub and grassland vegetation;
Phytosociological nomenclature;
Sustainable management of Mediterranean agro-pastoral systems;
Conservation and monitoring of habitat and species (Natura 2000 network).
List of selected papers
Terzi, M., Di Pietro, R., & Theurillat, J. P. (2016). Nomenclature of the class Festuco-Brometea in Italy and remarks on the interpretation of articles 1 and 2b ICPN. Botany Letters, 163, 307-319.
Terzi ,M., & D'Amico, F. S. (2016). Dry grasslands of Hippocrepido glaucae-Stipion austroitalicae in the Pollino Massif (Calabria, Italy). Acta Botanica Croatica, 75(1), 89-98.
Terzi M., & Di Pietro R. (2016). Nomenclatural remarks on the chasmophytic vegetation of the Centaureo-Campanuletalia. Plant Biosystems, DOI: 10.1080/11263504.2016.1149121
Di Pietro, R., Theurillat, J. P., Capelo, J., Fernández-González, F., Terzi, M., Carni, A., & Mucina, L. (2015). Nomenclature and syntaxonomic notes on some high-rank syntaxa of the European grassland vegetation. Lazaroa, 36, 79-106.
Fracchiolla, M., Terzi, M., Frabboni, L., Caramia, D., Lasorella, C., De Giorgio, D., Montemurro, P., & Cazzato, E. (2015). Influence of different soil management practices on ground-flora vegetation in an almond orchard. Renewable Agriculture and Food Systems, 31, 300-308.
Terzi, M. (2015). Numerical analysis of the order Scorzoneretalia villosae. Phytocoenologia, 45(1-2), 11-32. ["Editors' award" 2015 of the Journal Phytocoenolgia]
Tomaselli, V., Dimopoulos, P., Marangi, C., Kallimanis, A. S., Adamo, M., Tarantino, C., Panitsa, M., Terzi, M., ... & Nagendra, H. (2013). Translating land cover/land use classifications to habitat taxonomies for landscape monitoring: a Mediterranean assessment. Landscape Ecology, 28(5), 905-930.
Ciani, E., Tedone, L., Terzi, M., De Cillis, F. M., Castellana, E., & Fracchiolla, M. (2012). Characterization of plant diversity of pastures and volatile organic compound analysis in ewe's milk from a typical farm system in the Alta Murgia national Park (southern Italy): opportunities for a sustainable land use. Italian Journal of Agronomy, 7(2), 133-138.
Terzi, M., & Di Pietro, R. (2012). Floristic characterization of the dry grasslands of the class Festuco-Brometea Br.-Bl. et Tx. ex Klika et Hadac 1944 in the Adriatic Region. In: Calabrese, G., Pacucci, C., Occhialini, W. & Russo, G. (eds) IX National Biodiversity Conference, 6-7 settembre 2012, IAMB-CHIEAM Bari, vol. 3, pp. 104-111
Terzi, M. (2011). Nomenclatural revision for the order Scorzonero-Chrysopogonetalia. Folia Geobotanica, 46(4), 411-444.
Terzi, M., Di Pietro, R., & D'amico, F. S. (2010). Application of Indicator Species Analysis to communities with Stipa austroitalica Martinovsky and relevant syntaxonomic problems. Plant Sociology 47(1):3-28.
Terzi, M., & D'Amico, F. S. (2008). Chasmophytic vegetation of the class Asplenietea trichomanis in south-eastern Italy. Acta Botanica Croatica, 67(2), 147-174.
Selected Publications
(full list available at CNR People)
Chasmophytic vegetation of the Centaureo cuspidatae-Portenschlagiellion ramosissimae (south-eastern Adriatic, Mediterranean)

Terzi M, Jasprica N
Year: 2018

Revision of the central Mediterranean xerothermic cliff vegetation

Terzi M, Jasprica N, Caković D, Di Pietro R
Year: 2018

Xerothermic cliff vegetation of the central Mediterranean basin

Terzi M, Jasprica N, Cakovic D, Di Pietro R
Year: 2018

Notulae to the Italian native vascular flora: 3

Bartolucci F, Domina G, Adorni M, Alessandrini A, Ardenghi NM, Banfi E, Baragliu GA, Bernardo L, Bertolli A, Biondi E, Carotenuto L, Casavecchia S, Cauzzi P, Conti F, Crisanti MA, D'amico FS, Di Cecco V, Di Martino L, Faggi G, Falcinelli F, Forte L, Galasso G, Gasparri R, Ghillani L, Gottschlich G, Guzzon F, Harpke D, Lastrucci L, Lattanzi E, Maiorca G, Marchetti D, Medagli P, Olivieri N, Pascale M, Passalacqua NG, Peruzzi L, Picollo S, Prosser F, Ricciardi M, Salerno G, Stinca A, Terzi M, Viciani D, Wagensommer RP, Nepi C
Year: 2017

A revision of the high-altitude acidophilous and chionophilous grasslands of the Apennines (Peninsular Italy), a long-lasting intricate syntaxonomic issue

Di Pietro R, Terzi M, Fortini P
Year: 2017

Conservation and pastoral value of former arable lands in the agro-pastoral system of the Alta Murgia National Park (Southern Italy)

Fracchiolla M, Terzi M, D'amico FS, Tedone L, Cazzato E
Year: 2017

Notulae to the Italian alien vascular flora: 3

Galasso G, Domina G, Ardenghi NM, Assini S, Banfi E, Bartolucci F, Bigagli V, Bonari G, Bonivento E, Cauzzi P, D'amico FS, D'antraccoli M, Dinelli D, Ferretti G, Gennai M, Gheza G, Guiggi A, Guzzon F, Iamonico D, Iberite M, Latini M, Lonati M, Mei G, Nicolella G, Olivieri N, Peccenini S, Peraldo G, Perrino EV, Prosser F, Roma-Marzio F, Russo G, Selvaggi A, Stinca A, Terzi M, Tison JM, Vannini J, Verloove F, Wagensommer RP, Wilhalm T, Nepi C
Year: 2017

Proposal (21): to conserve the name Festucetalia valesiacae Br.-Bl. and Tx. ex Br.-Bl. 1950 against Festucetalia Soó 1940

Terzi M, Di Pietro R, Theurillat JP
Year: 2017

Xerothermic chasmophytic vegetation of the central Mediterranean Basin: a nomenclatural revision

Terzi M, Jasprica N, Caković D
Year: 2017

Proposal (22): to conserve the name Mesobromion erecti (Br.-Bl. & Moor 1938) Oberd. 1957 against the name Bromion erecti W. Koch 1926

Theurillat J-P, Terzi M, Di Pietro R
Year: 2017

Influence of different soil management practices on ground-flora vegetation in an almond orchard

Fracchiolla M, Terzi M, Frabboni L, Caramia D, Lasorella C, De Giorgio D, Montemurro P, Cazzato E
Year: 2016

Dry grasslands of Hippocrepido glaucae-Stipion austroitalicae in the Pollino Massif (Calabria, Italy)

Terzi M, D'Amico FS
Year: 2016

Dry grasslands of the Hippocrepido glaucae-Stipion austroitalicae in the Pollino Massif (Calabria, Italy)

Terzi M, D'Amico FS
Year: 2016

Nomenclatural remarks on the chasmophytic vegetation of the Centaureo - Campanuletalia

Terzi M, Di Pietro R
Year: 2016

Nomenclature of the class Festuco-Brometea in Italy and remarks on the interpretation of articles 1 and 2b ICPN

Terzi M, Di Pietro R, Theurillat JP
Year: 2016

Nomenclature and syntaxonomic notes on some high-rank syntaxa of the European grassland vegetation

Di Pietro R, Theurillat J-P, Capelo J, Fernández-González F, Terzi M, Carni A, Mucina L
Year: 2015

Notulae alla checklist della flora vascolare italiana: 2130. Thymus spinulosus Ten. (Lamiaceae)

Terzi M, Tomaselli V, Bartolucci F
Year: 2015

Notulae alla checklist della flora vascolare italiana: 2104. Anacyclus radiatus Loisel. subsp. radiatus (Asteraceae)

Tomaselli V, Terzi M
Year: 2015

Distribuzione, ecologia e stato di conservazione delle popolazioni a Stipa austroitalica Martinovský s.l. (specie di interesse comunitario) in Italia

Paura B, Caldarella O, Gianguzzi L, Terzi M, Uzunov D
Year: 2014

Numerical Analysis of the order Scorzoeneretalia villosae

Terzi M
Year: 2014

Notulae alla checklist della flora vascolare italiana

Tomaselli V, Terzi M
Year: 2014

Translating land cover/land use classifications to habitat taxonomies for landscape monitoring: a Mediterranean assessment

Tomaselli V, Dimopoulos P, Marangi C, Kallimanis AS, Adamo M, Tarantino C, Panitsa M, Terzi M, Veronico G, Lovergine F, Nagendra H, Lucas R, Mairota P, M
Year: 2013

Translating land cover/land use classifications to habitat taxonomies for landscape monitoring: a Mediterranean assessment

Tomaselli V, Dimopoulos P, Marangi C, Kallimanis AS, Adamo M, Tarantino C, Panitsa M, Terzi M, Veronico G, Lovergine F, Nagendra H, Lucas R, Mairota P, Mücher S, Blonda P
Year: 2013

Comparison of Land Cover/Land Use and Habitat classification systems for Habitat mapping from space: strengths and weaknesses evidenced in Mediterranean sites of Natura 2000 network

Tomaselli V, Dimopoulos P, Marangi C, Kallimanis AS, Adamo M, Tarantino C, Panitsa M, Terzi M, Veronico G, Lovergine F, Nagendra H, Lucas R, Mairota P, Mücher CA, Blonda P
Year: 2013

Characterization of plant diversity of pastures and volatile organic compound (voc) analysis in ewe's milk from a typical farm system in the Alta Murgia National Park (Southern Italy): opportunities for a sustainable land use

Ciani E, Tedone L, Terzi M, De Cillis FM, Castellana E, Fracchiolla M
Year: 2012

Nomenclatural Revision for the Order Scorzonero-Chrysopogonetalia

Terzi M
Year: 2011

Analisi delle specie Indicatrici applicata alle comunità a Stipa austroitalica Martinovsky e relative problematiche sintassonomiche

Terzi M, Di Pietro R, D'Amico
Year: 2010

Application of Indicator Species Analysis to communities with Stipa austroitalica Martinovsky and relevant syntaxonomic problems

Terzi M, Di Pietro R, D'Amico FS
Year: 2010

Chasmophytic vegetation of the class Asplenietea trichomanis in south-eastern Italy

Terzi M, D'Amico FS
Year: 2008