Elia Di Schiavi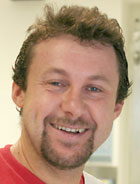 ---
Personal Info
Born: 14/10/1974 Naples, Italy
Nationality: Italian
Sex: Male
Professional Address:
Istituto di Bioscienze e Biorisorse - Sezione di Napoli
Via P. Castellino 111
I-80131 Napoli (Italy)
Position: Research Scientist
Main Research Interests
Our group uses the impressive experimental advantages offered by the nematode animal model C. elegans to approach a variety of fundamental biological questions. A major focus of our research is to understand how nervous systems develop, function and react and survive to various insults (a). We also use C. elegans as a model to study in vivo the function played by genes relevant for human health (b) and as a tool in biotechnology (c); these areas are, however, largely interconnected and overlapping in terms of techniques, results, funding and collaborations.
a) C.elegans nervous system is simple and easy to study and to manipulate genetically, but its development and function is remarkably conserved. We have been interested, for example, in avoidance behavior, which is triggered when animals encounter noxious, toxic or repellent stimuli, either produced by plants (e.g. quinine) or by bacteria (e.g from different habitats or pathogenic).
b) We have exploited the extensive conservation of the structure and function of genes and of entire pathways from invertebrates to mammals to study genes whose homologs in humans are involved in diseases.
c) The 1mm size and the 3 days life cycle make C. elegans very attractive as a tool in various biotechnology projects.
- C. elegans is a free living nematode but represents an important model for parasitic ones. We have been interested in finding new targets for the control of plant parasitic nematodes and to set up animal models for screening and validation of new nematocides.
- We are using the disease models we developed to identify and/or validate new molecules capable of slowing down the progression of diseases (e.g Spinal Muscular Atrophy) and to identify chemicals and food contaminants with neurotoxic effects (e.g patulin, chlorpyrifos).
Publication List
Rugarli E.I.*, Di Schiavi E.*, Hilliard M.A., Arbucci S., Ghezzi C., Facciolli A., Coppola G., Ballabio A., Bazzicalupo P.
The Kallmann syndrome gene homolog in C. elegans is involved in epidermal morphogenesis and neurite branching.
Development. 2002 Mar 1;129(5):1283-1294.
*These two authors contributed equally to this work
Di Schiavi E., Riano E., Heye B., Bazzicalupo P., Rugarli E.I.
UMODL1/Olfactorin is an extracellular membrane-bound molecule with a restricted spatial expression in olfactory and vomeronasal neurons
European Journal of Neuroscience 2005 Jun 21( 12): 3291-3300
Esposito G.*, Di Schiavi E.*, Bergamasco C., Bazzicalupo P.
Efficient and cell specific knock-down of gene function in targeted C. elegans neurons
Gene. 2007 Jun 15;395(1-2):170-6.
*These two authors contributed equally to this work
Cordeddu V., Di Schiavi E., Pennacchio L.A., Maayan A., Sarkozy A., Cecchetti S., Fodale V., Cardinale A., Zampino G., Mazzanti L., Digilio M.C., Martinelli S., Flex E., Lepri F., Bartholdi D., Kutsche K., Ferrero G.B., Rossi C., Zenker M., Merlo D., Dallapiccola B., Iyengar R., Bazzicalupo P., Gelb B.D. and Tartaglia M.
Mutation of SHOC2 promotes aberrant protein N-myristoylation and causes Noonan-like syndrome with loose anagen hair.
Nature Genetics 2009 Sep;41(9):1022-6.
Esposito G., Amoroso M.R., Bergamasco C., Di Schiavi E., Bazzicalupo P.
The G Protein regulators EGL-10 and EAT-16, the Giα GOA-1 and the Gqα EGL-30 modulate the response of the C. elegans ASH polymodal nociceptive sensory neurons to repellents.
BMC Biol. 2010 Nov 11;8:138.
Vandamme J., Lettier G., Sidoli S., Di Schiavi E., Nørregaard Jensen O., Salcini A.E.
The C. elegans H3K27 demethylase UTX-1 is essential for normal development, independent of its enzymatic activity.
PLoS Genet. 2012 May;8(5):e1002647.
Di Schiavi E. and Andrenacci D.
Invertebrate Models of Kallmann Syndrome: Molecular Pathogenesis and New Disease Genes
Current Genomics 2013 Mar; 14(1):2-10 Review
The Network for Central Hypogonadism (Network Ipogonadismo Centrale, NICe) of the Italian Societies of Endocrinology (SIE), of Andrology and Sexual Medicine (SIAMS) and of Peadiatric Endocrinology and Diabetes (SIEDP)
Kallmann's syndrome and normosmic isolated hypogonadotropic hypogonadism: two largely overlapping manifestations of one rare disorder
J Endocrinol Invest (2014) 37:499-500
E. Flex, M. Jaiswal, F. Pantaleoni, S. Martinelli, M. Strullu, E.K. Fansa, A. Caye, A. De Luca, F. Lepri, R. Dvorsky, L. Pannone, S. Paolacci, S. Zhang, V. Fodale, G. Bocchinfuso, C. Rossi, E.M.M. Burkitt-Wright, A. Farrotti, E. Stellacci, S. Cecchetti, R. Ferese, L. Bottero, S. Castro, O. Fenneteau, B. Brethon, M. Sanchez, A.E. Roberts, H.G. Yntema, I. van der Burgt, P. Cianci, M.L. Bondeson, M.C. Digilio, G. Zampino, B. Kerr, Y. Aoki, M.L. Loh, A. Palleschi, E. Di Schiavi, A. Carè, A. Selicorni, B. Dallapiccola, I.C. Cirstea, L. Stella, M. Zenker, B.D. Gelb, H. Cavé, M.R. Ahmadian & M. Tartaglia,
Activating mutations in RRAS underlie a phenotype within the RASopathy spectrum and contribute to leukaemogenesis
Human Molecular Genetics 2014 Aug 15;23(16):4315-27
F. Ballestriero, M. Daim, A. Penesyan, J. Nappi, D. Schleheck, P. Bazzicalupo, E. Di Schiavi and S. Egan
Antinematode activity of violacein and the role of the insulin/IGF-1 pathway in in controlling violacein sensitivity in Caenorhabditis elegans".
PLoSONE 2014 Oct 8;9(10):e109201.
Selected Publications
(full list available at CNR People)
Exploratory analysis of transposable elements expression in the C. elegans early embryo

Ansaloni F, Scarpato M, Di Schiavi E, Gustincich S, Sanges R
Year: 2019

Green kiwifruit extracts protect motor neurons from death in a spinal muscular atrophy model in Caenorhabditis elegans

Mazzarella N, Giangrieco I, Visone S, Santonicola P, Achenbach J, Zampi G, Tamburrini M, Di Schiavi E, Ciardiello MA
Year: 2019

Automated screening of C. elegans neurodegeneration mutants enabled by microfluidics and image analysis algorithms

De Carlos Cáceres I, Porto DA, Gallotta I, Santonicola P, Rodríguez-Cordero J, Di Schiavi E, Lu H
Year: 2018

Activation of autophagy, observed in liver tissues from patients with Wilson disease and from Atp7b-deficient animals, protects hepatocytes from copper-induced apoptosis

Polishchuk EV, Merolla A, Lichtmannegger J, Romano A, Indrieri A, Ilyechova EY, Concilli M, De Cegli R, Crispino R, Mariniello M, Petruzzelli R, Ranucci G, Iorio R, Pietrocola F, Einer C, Borchard S, Zibert A, Schmidt HH, Di Schiavi E, Puchkova LV, Franco B, Kroemer G, Zischka H, Polishchuk RS
Year: 2018

WDR79/TCAB1 plays a conserved role in the control of locomotion and ameliorates phenotypic defects in SMA models

Di Giorgio ML, Esposito A, Maccallini P, Micheli E, Bavasso F, Gallotta I, Vernì F, Feiguin F, Cacchione S, Mccabe BD, Di Schiavi E, Raffa GD
Year: 2017

Caenorhabditis elegans employs innate and learned aversion in response to bacterial toxic metabolites tambjamine and violacein

Ballestriero F, Nappi J, Zampi G, Bazzicalupo P, Di Schiavi E, Egan S
Year: 2016

Neuron-specific knock-down of SMN1 causes neuron degeneration and death through an apoptotic mechanism

Gallotta I, Mazzarella N, Donato A, Esposito A, Chaplin JC, Castro S, Zampi G, Battaglia GS, Hilliard MA, Bazzicalupo P, Di Schiavi E
Year: 2016

A Caenorhabditis elegans model to study dopamine transporter deficiency syndrome

Illiano P, Lanzo A, Leo D, Paglione M, Zampi G, Gainetdinov RR, Di Schiavi E
Year: 2016

Mutations in SLC25A1, encoding the mitochondrial citrate carrier, cause neuromuscular junction transmission defect

Scarcia P, Zampi G, Porcelli V, Gorgoglione R, Pierri CL, De Grassi A, Sadaa A, Elpeleg O, Chaouch A, Lochmuller H, Di Schiavi E, Palmieri L
Year: 2016

Evaluation of Burkholderia cepacia complex bacteria pathogenicity using Caenorhabditis elegans

Tedesco P, Di Schiavi E, Palma Esposito F, de Pascale D
Year: 2016

Optofluidic holographic microscopy with custom field of view (FoV) using a linear array detector

Bianco V, Paturzo M, Marchesano V, Gallotta I, Di Schiavi E, Ferraro P
Year: 2015

Investigating the Role of the Host Multidrug Resistance Associated Protein Transporter Family in Burkholderia cepacia Complex Pathogenicity Using a Caenorhabditis elegans Infection Model

Tedesco P, Visone M, Parrilli E, Tutino ML, Perrin E, Maida I, Fani R, Ballestriero F, Santos R, Pinilla C, Di Schiavi E, Tegos G, De Pascale D
Year: 2015

Antinematode activity of Violacein and the role of the Insulin/IGF-1 pathway in controlling Violacein sensitivity in Caenorhabditis elegans

Ballestriero F, Daim M, Penesyan A, Nappi J, Schleheck D, Bazzicalupo P, Di Schiavi E, Egan S
Year: 2014

Kallmann's syndrome and normosmic isolated hypogonadotropic hypogonadism: Two largely overlapping manifestations of one rare disorder

Bonomi M, Cappa M, Cariboni A, Di Schiavi E, Fabbri A, Ferlin A, Foresta C, Ghizzoni L, Jannini E, Krausz C, Loche S, Lombardo F, Maggi M, Maggi R, Maghnie M, Mancini A, Merlo G, Panzica G, Radetti G, Russo G, Simoni M, Sinisi AA, Persani L
Year: 2014

Activating mutations in RRAS underlie a phenotype within the RASopathy spectrum and contribute to leukaemogenesis

Flex E, Jaiswal M, Pantaleoni F, Martinelli E, Strullu M, Fansa EK, Caye A, De Luca A, Lepri F, Dvorsky R, Pannone L, Paolacci S, Zhang S-C, Fodale V, Bocchinfuso G, Rossi C, Burkitt-Wright EMM, Farrotti A, Stellacci E, Cecchetti S, Ferese R, Bottero L, Castro S, Fenneteau O, Brethon B, Sanchez M, Roberts AE, Yntema HG, Van Der Burgt I, Cianci P, Bondeson ML, Digilio MC, Zampino G, Kerr B, Aoki BK, Loh ML, Palleschi A, Di Schiavi E, Care A, Selicorni A, Dallapiccola B, Cirstea IC, Stella L, Zenker M, Gelb BD, Cave H, Ahmadian MR, Tartaglia M
Year: 2014